Somewhere around the Indo-Bangladesh border, many cars zoomed passed me. I realised how Shillong had become favourite destination for Indian and international travellers. They all came here to hike to the Living Root Bridges, experience Asia's cleanest village, Mawlynnong, and immerse themselves in the quintessential hill station experience. 
This made me wonder if I didn't understand the gradual change of the large influx of tourists coming into Shillong. I grew up in a quieter Shillong, which was frequented mostly by tourists from Kolkata every summer. Autumn and winter was reserved for us, sans tourists. We walked around town with the cherry blossoms lining our path and the winter sun keeping us toasty. Even though much has changed, yet the familiar sights, sounds, tastes, and smells of the Shillong I grew up in are still recognisable to me. Here are some quintessential Shillong experiences that always fill me with nostalgia.
Sights
The dry river bed of Dainthlen Falls: About 55 kms away from Shillong's city centre, Dainthlen Falls is an 80-metre tall waterfalls. A short walk from the steel bridge, on the dry river bed, leads to the captivating fall of water to a crystal green water bed.
Monoliths of Jaintia Hills: Approximately 65 kms away from Shillong, these megaliths appear to be casually thrown across the town of Natiang. They are everywhere–near a house, children are seen playing around them in a locality, and even in an open barren field. The main cluster is a wide complex housing numerous megaliths. These are of two types; the vertical standing stones (or menhirs) are the male ones called the Maw Shynrang and the horizontal ones (or dolmens) are locally called Maw Kynthei (the female). Perhaps the tallest of them is 8 metres high. On a warm summer afternoon, with the light filtering through the trees, it is easy to gawk limitlessly at these stone structures. 
The soothing silence of the Cathedral: Within the city, the Cathedral of Mary Help of Christians or the Shillong Cathedral is a landmark. Located on the road between Dhankheti and Laitumkhrah, the cathedral has an imposing blue facade set with stained-glass windows. Visit this place of worship to understand that silence can also be seen.
Read: Photo Story: Iewduh, Shillong
Aromas
Cafe culture of Laimu: Laitumkhrah (or Laimu) has become the cafe hub in the city. It almost feels like I can smell coffee no sooner I reach Don Bosco Square. Walking towards the end of the road towards Beat House, I see Swish Cafe, one of the earliest in the business. Since then it has evolved from the basic wooden table with simple chairs, to the current eclectic look. Though their freshly ground coffee continues to be a favourite.
Cafe Shillong is popular amongst residents and tourists. This cafe is friendly, with comfortable tables (and the couch is perfect for group of friends catching up). The hot chocolate is perfectly blended to maintain the delicious velvet-like texture and is definitely one of the best things on the menu here. The cafe comes alive with live gigs over the weekends. Expect to run into the city's much-loved musician Lou Majaw, nicknamed as 'Shillong's Dylan', here.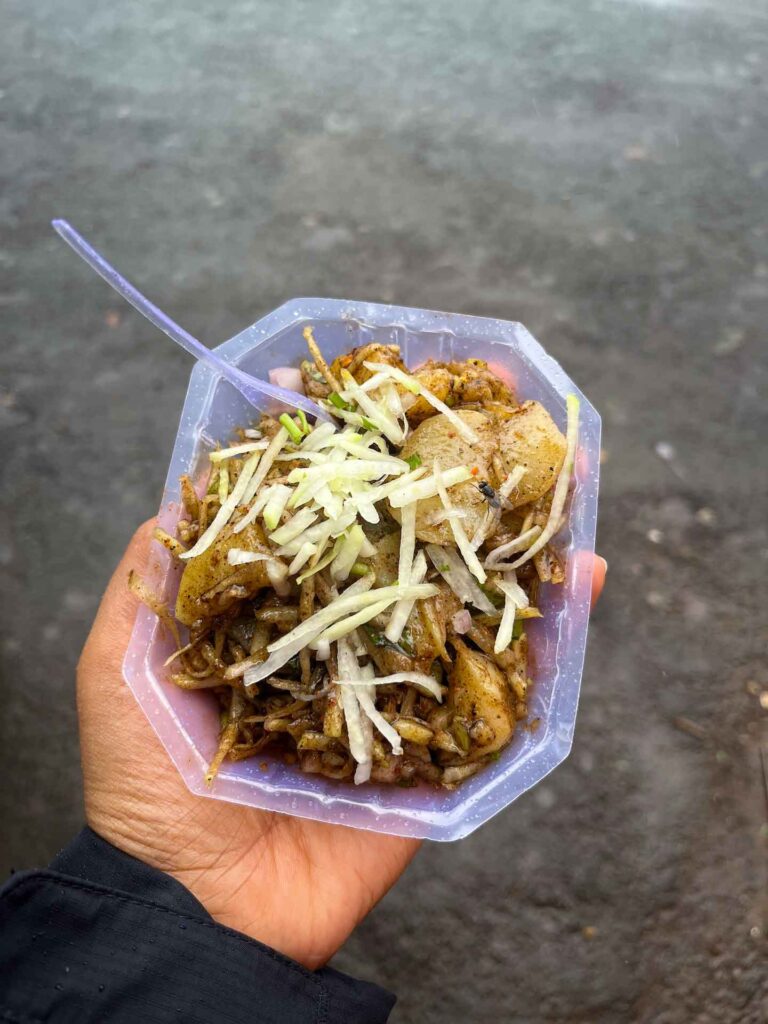 Tastes
The spicy street food: Aluwalas are easy to spot and omnipresent in Shillong. For identification purposes, aluwala is a man who stands with a painted wooden deck, at various busy corners of the city, selling Shillong's most iconic street food. Alu muri is a mixture of boiled potatoes (alu) tossed with raw papaya and puffed rice (muri), sprinkled with spices, salt, some mustard oil and the mandatory tamarind water. There are variations to this. There is a new version of thick, yellow, potato gravy served with finely chopped onion, peanuts and crispy gram flour (bhujia). Customising alu muri is easy. You can pick only alu sans the muri (which is what I do) and regulate the spices he adds.
In Shillong, you're never too far from an aluwala.  He is seen near schools at lunch, or tourist sights earlier than noon and later after lunch or there is always one in the tri-junction of All India Radio and Don Bosco Square junction in early evenings.
See black-and-white photos of Shillong here
Mountain momos: Even though Police Bazar (or PB) had some traditional momo eateries, Laimu was the main centre of this melt-in-the-mouth Tibetan snack. The Wok (near Fire Brigade, also now in Lachumiere) has always had some of the best momos. Though nothing compares to the small, makeshift momo stands, thrown around the main road. Walk on Laitumkhrah main road and spot the many momo vendors at different corners.
North Indian charms: Nothing beats a brown paper bag of hot, sticky, spiral jalebis eaten in the cool air of the hills. The 83-year-old Delhi Mistan Bhandar in PB makes the best jalebis in Shillong, fried up right next to its steps by a man who looks as if he's been there, hovering over the hot oil, from the first day the store opened.
Heritage dinners: Nestled in Cleve Colony's quiet neighbourhood, Tripura Castle's restaurant has always been a favourite. This heritage hotel is adjacent to the summer palace of the royal family of Manikya Dynasty of Tripura. They have a number of restaurants and cocktail bars, which open depending on seasons and maintenance work. The Chinese selection is better than the rest on the menu. Their local Khasi delicacies are also worth a try, though these aren't done as authentically. Their cocktails are basic and they're happy to customise according to preferences.
Read: Shillong Guide: Where to Eat
Sounds
Buzz of Iewduh: In the heart of the city, lies a favourite and the very animated Iewduh or Bara Bazar. This wholesale market is perpetually teeming with people and perhaps the best way to explore it is through the lens of a camera. From loud car honks on the main road to the cryptic negotiations in the lanes, every corner here is alive.
Senses
Walk around: Walking has always been the best way to explore Shillong. The sharp climb on Jacob's Ladder, which connects the famous St. Anthony's College at the bottom to the busy Don Bosco Square at the steep end, is not every one's cup of tea. Start your walk from the gentle downhill incline of All India Radio, towards Shillong's most eminent Gurudwara, Guru Singh Sabha and then St. Anthony's College on your right. This is where the climb starts. Previously, Jacob's Ladder was a pedestrian only road but now one-way traffic is permitted. However, walking up this hill at a comfortable pace through the college crowds and the scanty tree canopy is always worth the exercise.
Reward yourself in Don Bosco Square, where three notable schools meet and hence, has very many shops, cafes and restaurants and is brimming with life. Snack on the spicy alu muri, or recharge yourself with a hearty Manipuri meal in Phunga, or get a quick bite at Munchies.
Read: Shillong Guide: Walking Routes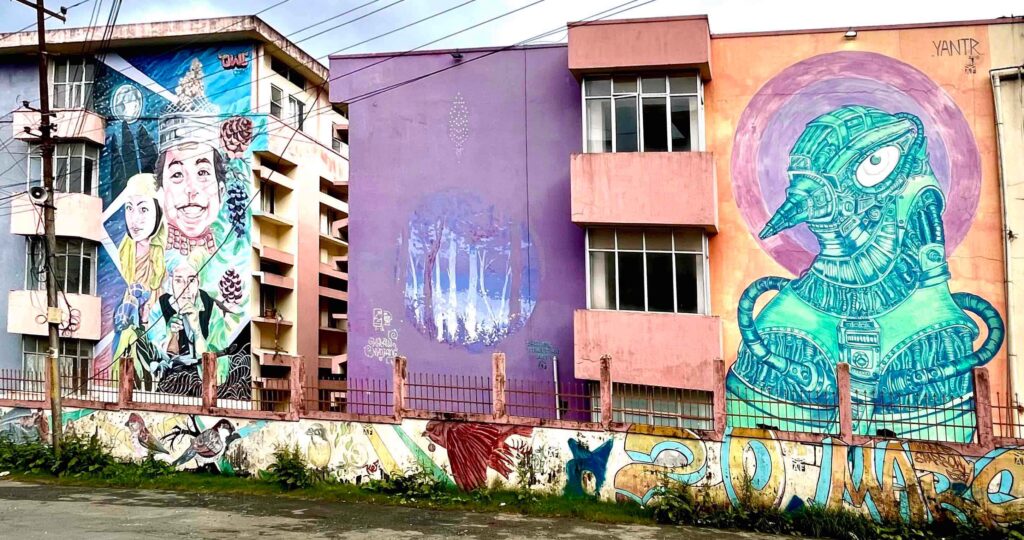 My favourite morning walk route is the one from All India Radio on Hopkinson Road towards the famous tourist sight, Ward's Lake. This trail is only about 30 minutes long through 2 kms. The curved stretches of Camel's Back Road, with the smell of pine trees to guide, will take you towards Ward's Lake. This is an exceptional time of the day to witness the peace of the lake. In a matter of few hours, tourist taxis will queue up and the area will quickly lose its peace.
Shop in Glory's Plaza: Glory's Plaza (or GP, as we call it) is the multi-storey shopping building which has a wide array of Tibetan, Goth and Rasta goods. Develop new muscles to overlook the hygiene of the building and to practice sweet negotiation skills here.
Insider tips:
-Do try the fresh cream puffs and lemon pie from Reen's Bakery in Lumawrie.
-Trattoria is still one of the best places for Khasi food.
-Dylan's Cafe in Risa Colony has the very good hot chocolate, great coffee and good meals.
-Keep track of your belongings while in crowded places like Iewduh and PB.
An edited version of this story appeared in National Geographic Traveller India, August 2016
Read: The Origins in Shillong
For more travel nostalgia follow me on Instagram.